Please let me introduce myself. My name is Dave Patten, owner of FutoFab.
FutoFab specializes in Datsun aftermarket and restoration parts with a strong focus on the '68–'73 510 model. We offer a large selection of composite body parts in both stock and period correct race configuration. We also offer several other Datsun related items including adjustable suspension components and brackets.
Recently we have started stocking reproduction steel panels for Datsuns. Currently we have rockers and tail light panels for the 510. We anticipate delivery of steel 510 hoods, fenders and front valances within the next 6-8 weeks. We will also be offering reproduction early 240Z bumpers chrome and painted at that time.
While I am not currently an active vintage racer, but I've been racing Datsuns in SCCA since '87. I do plan to participate in more vintage events. This winter I am rebuilding my '71 Datsun 510 to TransAm 2.5/B Sedan spec (owned/raced since '83). The plan is to attend more vintage events with the car. The car is shown in current livery in my avatar.
And here a shot of the same 510 after I took a small off course at Bryar Motorsports Park in Loudon, NH circa 1988.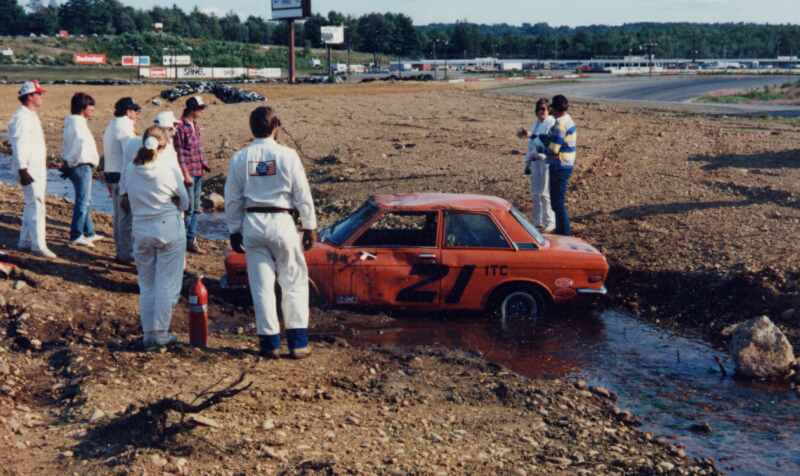 If you have any Datsun needs or questions, please check out our website and most certainly feel free to contact me.
And if you think others could benefit, please use the message board. I'm more than willing to offer my assistance here so all can benefit.