After we finished running at the newly-reopened Thompson (Conn) race event I noticed the clutch pedal needed to go to the floor before I got full disengagement of the clutch.
But the week after Thompson, we had rented a house at the beach. We had a dozen family members joining us that week (kids, grandkids, siblings, etc.) so the car only got a cursory safety inspection plus oil change. We had a great time at the beach!
When we arrived at Pittsburgh International Race Complex (Pitt-Race) for the first weekend of the PVGP, the clutch pedal seemed a little worse. There was no air in the system and I hypothesized that the clutch release arm is bent or the throw-out bearing is worn. The system is self-adjusting so there's no issue there.
We make it through the Pitt-Race weekend with some grinding but we do OK. I actually got a podium in one race (third) plus the Worker's Choice in another session (note to non-racers: Worker's Choice is like winning a prize for Miss Congeniality). Anyway, we win a case of beer for each of those so we are well stocked.
But I'm worried about the clutch. It's now at the point that I can barely get it in gear without rolling the car and even shifting into the second, third and forth are rough.
The second weekend of the PVGP puts us in Shenley Park which has a very tight paddock area. I worry about the clutch in these tight quarters and tell my friends I hope I have "one Shenley's worth of clutch pedal left".
There were a few very ugly shifts but we made it through the weekend and had a great time. I ordered parts from Moss while in Pittsburgh in anticipation of pulling things apart when home.
I pulled the motor last Wednesday and found the problem. This is one I don't recall seeing before; a very worn bushing in the clutch release arm. I had a good, used spare arm so in it went. But I wondered what had caused it? Then I realized my throw-out bearing was the "modern" roller type. These cars normally come with a carbon throw-out bearing but I had forgotten that I'd fitted this roller type unit a couple of years ago. Actually, I didn't specifically buy the roller bearing; it came in a used trans trans that I'd picked up. When looking at the roller throw-out bearing vs. the carbon throw-out bearing, there is an obvious difference in thickness. This, in turn, probably changes the fulcrum point of the load. I wonder if this caused increased load on the release arm bushing? It's hard to say, but since I had ordered a normal carbon bearing, I installed it and all the arm geometry should be back to normal. If I were to use another roller bearing in the future, it would have to be with a modified arm to keep the geometry correct. Or the roller bearing thickness would have to be thinner.
One other point; with the incorrect geometry caused by added thickness, the throw-out bearing was not "on center" with the pressure plate. The amount of error is probably minor but still......not good.
Since I was pulling it apart anyway, I decided to fit a new clutch disk. The old one was "biting" fine but a new disk is cheap and it seemed like a useful idea.
Actually the old disk was still decent but the pressure plate was about to break apart! It was riddled with radial heat-stress cracks. I'm glad I decided to replace the disk as it gave me a chance to see this. That pressure plate had been fine about 18 months ago when I installed it.
The funny thing is, I consider myself pretty "easy" on clutches. I never do any drag race starts and my current engine is very mild so it doesn't require a lot of slipping to get launched.
I put in a good, used pressure plate but I will be keeping an eye on it from now on. It's all back together and seems to be working fine. Next weekend I'll be at New Hampshire Motor Speedway so we will see it it's really fixed.
Worn clutch release arm bushing: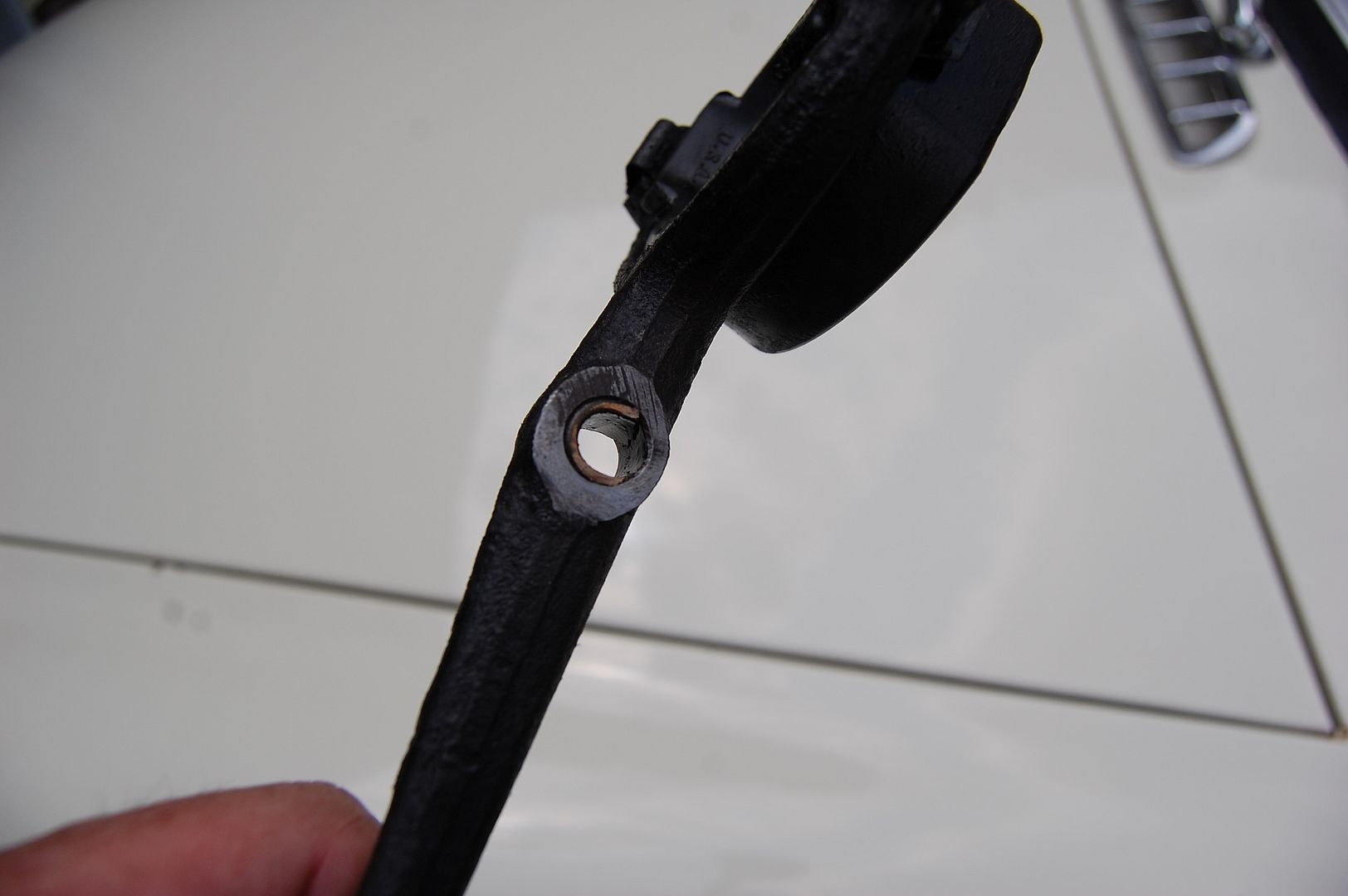 Thickness difference; roller throw-out bearing vs. carbon throw-out bearing: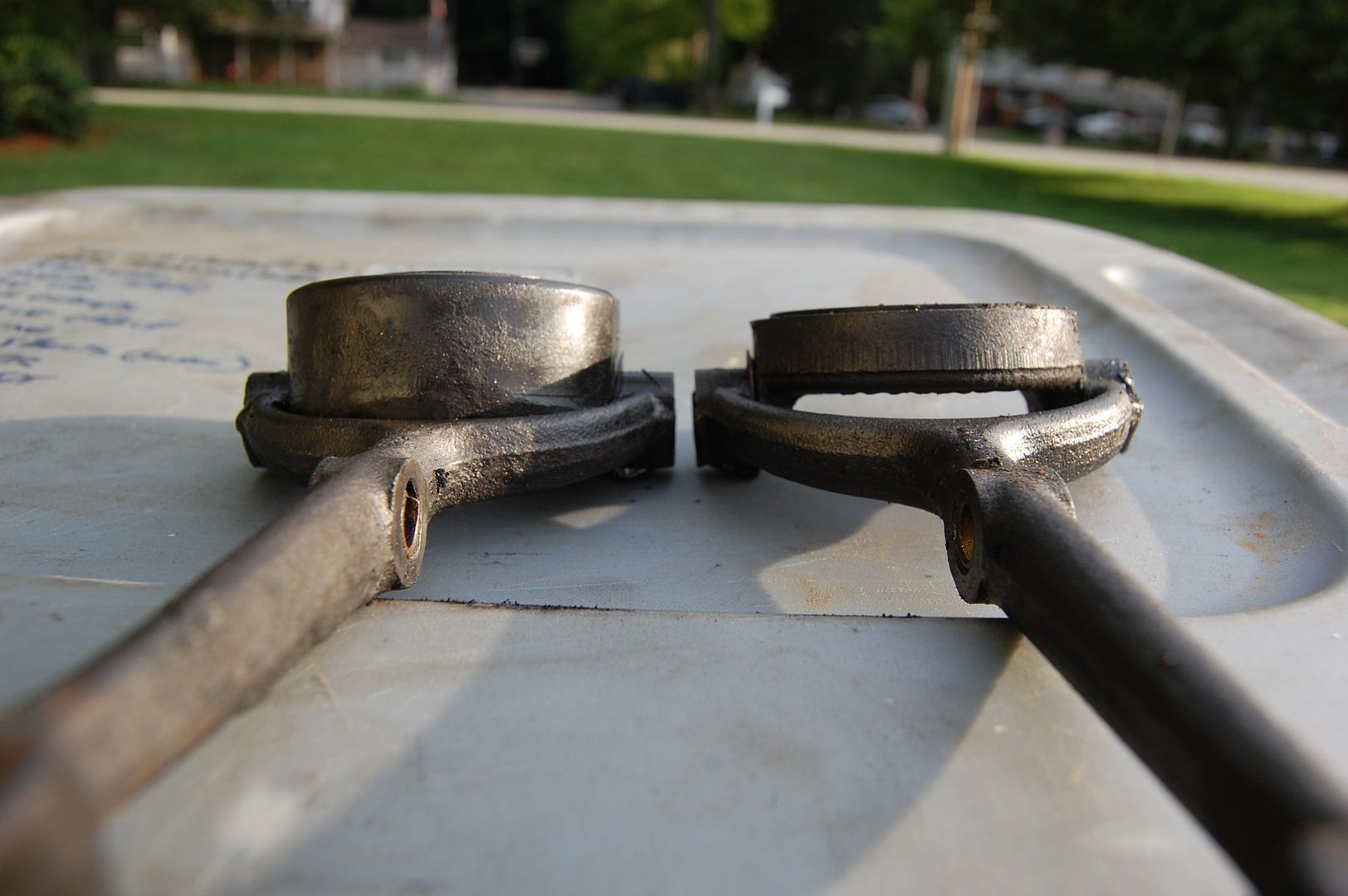 Radial heat stress cracks in pressure plate: